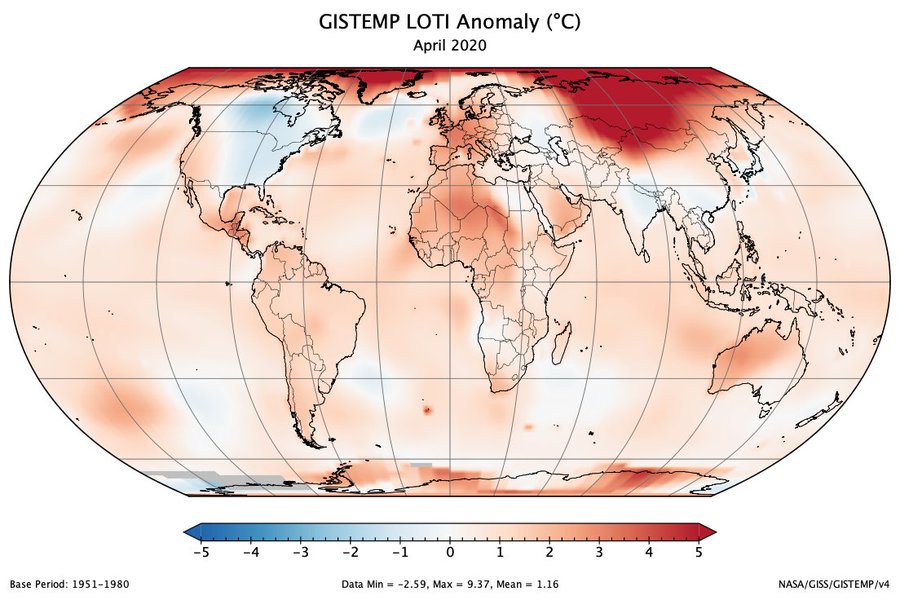 NASA GISS
reported
their temperature anomalies for April yesterday. The globe was 1.16°C above the 1951-1980 average, the warmest April in their records. Relative to the 30-year period 1880-1909 it was 1.41°C.
The northern hemisphere's April was the 2nd highest, southern hemisphere's was highest, and the land-only April anomaly was warmest at 1.56°C (relative to 1951-1980; 1.91°C relative to 1880-1909.)
To two significant digits, NASA GISS's total global warming now rounds to 1.1°C. Gavin Schmidt
says
2020 is
not
now virtually certain to be a top 3 year (since 1880) and the 6th consecutive year with an anomaly greater than 1°C.
--
NOAA
found
April to be the 2nd warmest of all Aprils since 1880, the same period as GISS. Their total warming also now rounds to 1.1°C.
Meanwhile the Japanese Meteorological Association (JMA) found April 2020 to be only the 2nd warmest April, after only 2016. Their total change since 1891, a slightly shorter period, is 0.97°C. (But I don't think that one decade, 1880-1890, fully accounts for their 0.08°C difference in warming from GISS -- it more likely something different in their methodologies (that's not to say who's "right" and who's "wrong," just choices.))